Fukave
fukave
(v.) to destroy (something inanimate)
(n.) destruction
I oloko ti'i, ae fukave iu lipo a…
"In my dream, I'm destroying boxes…"
Notes: HAPPY CATURDAY!!!!!
Keli loves to scratch up old boxes (and to bite on plastic, but she isn't supposed to do that). Here she is all tuckered out: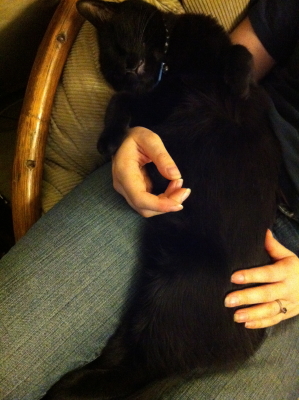 Contained within today's iku are the glyphs for fu, ka and fe. It's a bit of a bonus that ka can double as the "bad" line determinative, and that it looks like an arrow pointing down. Unfortunately while this iku looks all right full size, in 12 pt, it looks like there's a cartoonishly large arrow pointing downwards. Oh well.
Tags: actions, caturday, structural