Payu

payu
(v.) to show, to display to
(n.) displaying, showing
Ai fulele ia ae mata ie palei li'i ai? Ale ko! He male payu ei i ia!
"You want to see my home? Come on in! I'll show it to you!"
Notes: For a present, we got something in a brown paper bag. We set it on the ground, and Keli had found a new little home: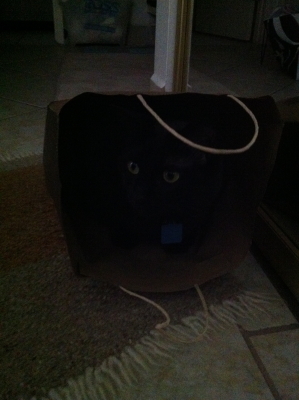 I suspected she would exit the bag if I approached her, so I took out my camera and started taking pictures from a distance, and continued to do so as I edged closer. This was the best of the bunch (since, indeed, she did exit the bag when I got closer).
Today's word is built off the iku for moko ("eight"), but in this case, it's actually serving the function of an ikunoala. See, the glyph for pa is an upside-down triangle, and the glyph for iu is a right-side-up triangle. By setting one above the other, you get payu. Of course, it couldn't be identical to moko, so to disambiguate the pair, a notch was added to the top.
Tags: abstract, actions, caturday, communication