• Wednesday, December 21st, 2011
ma'o
Ikiki o ma'o!
"Morning of lavender!"
Notes: Lavender is also an incredible flower. Check out this field in Japan which is covered with it: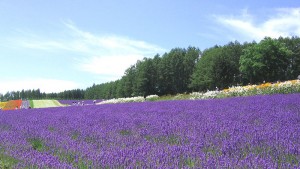 The iku should look slightly familiar. It's basically the same as the iku for male, but without the midline. I think both of them pass the ikunoala test, though. (Translation: I'm not going back and changing the category of male, on account of my unaccountable laziness.)
Also, in case you haven't heard it elsewhere, the 2011 Smiley Award went to Matt Pearson's Okuna! It's a great language, and if you have some time, I recommend you give it a look.
---