Foka

foka
(n.) fish (or any animal that lives primarily in the sea)
I ilea! Ai foka toi li'ia ai?
"Hello! Got any fish on you?"
Notes: HAPPY CATURDAY!!!
This is my second time around writing this post, thanks to the DreamHost outage yesterday (IT ATE MAH POST!11!!). Here's Keli, twisting up the way she does when she wants to get comfy: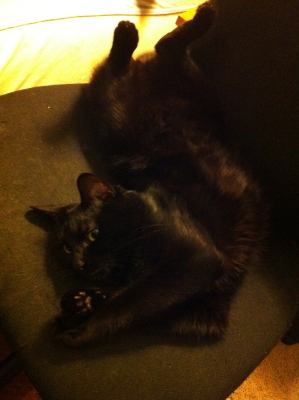 As I explained yesterday, I believe Keli now knows when she's being photographed, and relishes it. The second I unbutton my little iPhone camera case, she perks up—will wake up if she was previously asleep, even (I can't get pictures of her asleep anymore!). And then she poses and looks straight at the camera. What a cat!
Today's word was inspired by the Spanish word "marisco". We often see it pluralized ("mariscos"), where it means "seafood". I liked the idea of having a single word refer to everything that comes out of the sea. The difference with foka is that it doesn't refer primarily to food the way "mariscos" and certainly "seafood" does.
Tags: animals, caturday, crustaceans, food, mammal, molluscs, sea, water