I'elealea
i'elealea
(n.) a headache one gets after crying to the point of dehydration
Fuyaule i'elealea i'i.
"My headache pains me.
Notes: This was a new word I coined shortly after Okeo died. He died of apparent congenital liver failure early morning Monday, February 8th. We took him to the animal emergency room, and they tried their best to save him, but their attempts were in vain. Due to the nature of his condition, the vet told me he wasn't lucid at the end, and felt no pain or fear.
I haven't had an easy life, by any means, but I really don't believe I ever cried so much that I was dehydrated. My wife was the one who told me that such a thing could happen, and that it could bring on a headache, which it did. It took awhile, but I eventually came back, and am feeling mostly better now.
On the 11th I wrote a post saying that this blog would be going on hiatus. That was written the day before what would have been my next cat post, and I just couldn't bear to write a new one, or to write something different, so that's why I left off. Now that I'm feeling a little better, I've decided to continue the blog, though this will be my last cat post for awhile.
Okeo lived a very short life (even for a cat: just seven months), but his time with us was happy. And if it's true that his condition was congenital, and that his liver was eventually going to fail no matter where he was, I'm glad we got to bring a little joy into his life before his passing.
Like a true Kamakawi warrior, Okeo was cremated, and his ashes were spread out over the sea. I couldn't ask for anything better for myself. He was a splendid cat all the way to the end, and we'll miss him forever, but he'll always be our little gentleman.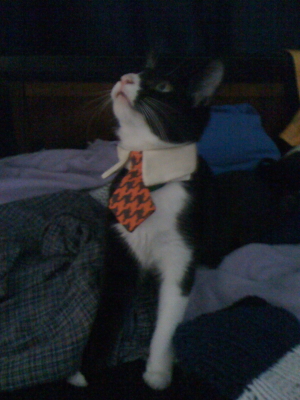 Okeo (2009-2010)
Tags: behavior, caturday, concepts, dangerous, emotion, humans